Complete Story

11/01/2013
A Closer Look: Mike's Auto Salvage
by Donna Currie - American Recycler News, Inc.
Mike's Auto Salvage
Mike Flynn • 252-438-9000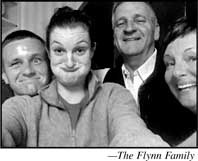 When Mike Flynn got married in October, 1984, he was working for a large industrial shipping company. He'd started working there while he was in college, handling packages and loading trucks, and had worked his way up to a suit-and-tie management job.
It might have seemed like a perfect job for a newly-married fellow, but Flynn had other ideas. "Six months later I bought a salvage business," he said. "I did not know anything about it at all."
Flynn didn't tell his wife about the purchase beforehand – he just drove her out to see the property. "There were tears in her eyes because of all the wrecked cars," he said. He admits that he didn't know exactly what she was thinking, but he says he can imagine what was going through her mind.
And it's a good bet he could almost read his wife's mind. He said they met in fifth grade and were "buddies" though grade school and high school, and wrote letters to each other when they went to different colleges. He described his wife as a "very refined person" so he imagined that the sight of all the junk cars – and the realization that Flynn was buying that business – must have been quite a shock.
Flynn said he wanted his business to be environmentally friendly, and rather than trying to fix environmental problems after they occurred, he said, "We're pro-active – we do all the right things." That included putting a car crusher in one of his buildings to keep the contaminants out of the environment.
He also stresses to his employees the importance of keeping the facility organized. "Everything has its place," he said. "You only want to handle it one or two times – if you put it in the right place the first time, you don't have to touch it again."
The property Flynn bought in 1895 was just 2.75 acres. Today, he owns a 50-acre property, although only about 20 acres are in use, leaving plenty of room for future growth. "We still sell parts," he said, describing that part of the business as a "pick-a-part" yard. But now he also recycles ferrous and nonferrous metals. But despite the growth, he said, "I'm just a small independent business."
But that's the way he likes it. "Business people are just too hard-headed to work for anyone else," he said. "You grow with wisdom. You try to make smart decisions."
But it's not just about independence. He said that he bought his own business because "I always thought that when I was working for myself, I would be able to get ahead," and right now it's paying for a college education for his two kids. "I want them to become very, very educated," he said. Part of that education started young, when those kids worked behind the counter at the family business every summer, talking to customers.
Flynn said, "You have to deal with whatever comes through the door," from a customer driving a moped and dragging a water heater, to 18-wheelers full of scrap. "It's an interesting blend of people," he said, but no matter what they're driving or what they're selling, he strives to treat all his customers the same way.
He's not doing it completely on his own, though. Flynn has a staff of about 7 part-time and full time employees, including 1 person who has been with the company for over 20 years. When business is booming, he might have as many as 15 employees.
"You try to hire good people that are actually thinkers," he said, "and want to do everything the right way."
That philosophy has been successful, spurring the growth from that small yard to much larger property with large buildings and one of the best software systems in the industry.
But he never forgets the early days. "I remember sitting in our office – my wife and I – and thinking, 'How are we going to get through this?'" He had purchased a business he knew nothing about, and said, "I did not have a father to fall back on," so he had to succeed on his own.
"I could have thrown my hands up and walked away many times," he said of the ups and downs of the business, but said that as a business owner, "you have to fight all the battles you need to fight."
In 29 years, Flynn went from being a suit-and-tie manager to the owner of his own business where he had to learn everything from the ground up. He said the advantage to that sort of training is that now he can teach any new employee how to do any job, because he has done all of them.
Today, he's sweeping floors, picking up metal and even loading trucks – much like his previous career. But he's doing it as a business owner, and that makes all the difference. "I make things happen every day," he said.
---